OTTAWA – J.L. Richards & Associates Limited (JLR) has announced an important transition in the senior leadership team within the firm's subsidiary LCI Engineering Inc. (LCI).
In March of this year JLR announced that it had acquired LCI, an Ottawa-based multidisciplinary engineering firm with focused expertise in the plant and heavy industrial sectors. It was announced at that time that LCI would continue to operate under its existing banner temporarily as part of a phased plan to fully align the two firms. After several months of successfully working in partnership, JLR and LCI have taken an important next step in the alignment of the two firms by making some strategic changes in the configuration of LCI's leadership structure.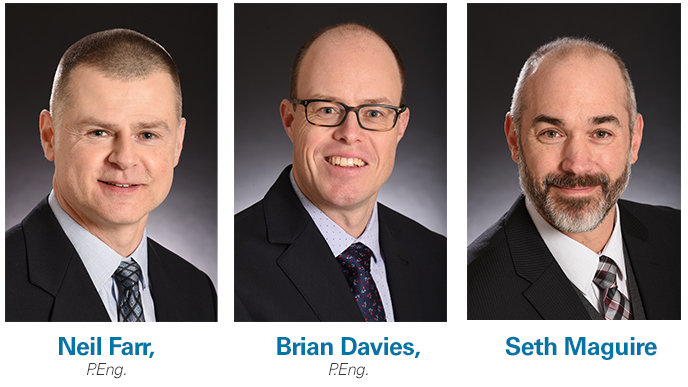 JLR is pleased to announce that Neil Farr, P.Eng., is serving as LCI Industrial Market Chief. In this role, Farr is responsible for leading key business development initiatives for the firm, coordinating the efforts of the LCI mechanical and electrical departments, and supporting the successful alignment of LCI and JLR.
JLR is also pleased to announce that Brian Davies, P.Eng., is serving as Manager, LCI Mechanical Department, and Seth Maguire is serving as Manager, LCI Electrical & Software Department. Davies and Maguire will provide focused oversight and guidance to their departments and support their teams as key technical resources.
LCI founders Bob Pollak, Marc-André Lussier, and Dennis O'Gallagher remain actively involved in LCI and will continue to provide technical and client support. All three original LCI partners express their excitement for the growth opportunity this transition represents for Farr, Davies, and Maguire, and are pleased to have this time to focus on continuing to support LCI's client base.
"This transition is a key component of a long-term plan to align LCI and JLR," explains René Lambert, P.Eng., Vice President at JLR. "We are excited for JLR and LCI to take this next step in this process, and for our two teams to continue working in partnership for the benefit of our clients."
About JLR
As a Platinum Club Canadian Best Managed Company, JLR provides high-quality integrated engineering, architecture, planning, and project management services to enterprises in the private and public sectors. With seven offices across Ontario, JLR's professional services support a wide variety of projects across five key markets, placing them at the cutting edge of both value and service delivery. For information on how JLR can help with your next project, please visit www.jlrichards.ca.
Find @JLRCanada on social media! We are active on LinkedIn, Twitter, Facebook, Instagram, and YouTube. For up-to-date company announcements, visit our newsroom. JLR is always looking to welcome new talent to our offices across Ontario. Visit www.jlrichards.ca/careers to find out more.
For media inquiries:
marketing@jlrichards.ca