JLR Wins Award for Manotick Watermain Link Project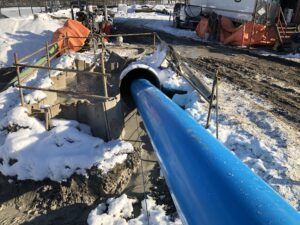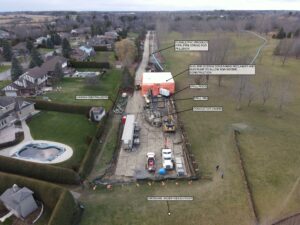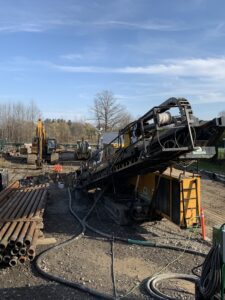 OTTAWA – J.L. Richards & Associates Limited (JLR) is excited to announce that the firm has been awarded the Award of Distinction in the Municipal Infrastructure category for its work on the Manotick Watermain Link (MWL), Phase 1 and North Island Watermain Link (NIL) project. This honour was presented by the Ontario Engineering Projects Awards (OEPA) program at a gala in Toronto on May 10 hosted by the Association of Consulting Engineering Companies (ACEC) Ontario.
JLR was responsible for all preliminary and detailed design work, approvals, tender documents, contract administration, and inspection support. In addition to the award, the MWL-NIL project was submitted and accepted as a technical paper to the North American Society for Trenchless Technology and was presented by JLR at the 2022 No-Dig Show in Portland, and the 2022 No-Dig North Conference in Toronto.
"We are very thankful for this recognition and for the opportunity to have been part of the project," says Philip Reeve, P. Eng., Executive Director and Chief Civil Engineer. "The project—completed within a tight construction schedule—was exceptionally complex, requiring a comprehensive design and coordination effort."
The MWL-NIL project represents the first phase of the City of Ottawa's longterm plan to improve capacity and redundancy of water supply across the Rideau River to Barrhaven South and Riverside South, while also improving reliability of supply to existing customers. The significant scope of this project included two transmission main crossings of the highly sensitive Rideau River, a federally regulated waterbody and UNESCO world heritage site.
Reeve explains that the specific natural features, subsurface conditions, and cultural heritage of the area were important considerations and informed JLR's approach to the design. The new transmission watermain had to cross both branches of the Rideau River at the north end of Long Island to connect the growing communities on the west and east sides of the River. Horizontal directional drilling by the intercept method was selected as the preferred trenchless construction methodology for both crossings after a comprehensive analysis of technical and environmental factors and in consultation with federal, provincial, and municipal approvals agencies. Contemporary planning, engineering, and environmental management practices were implemented to mitigate risk and to reduce the potential for environmental impacts. Although there were some challenges during construction, both of the bores were successfully completed on budget and in full compliance with all environmental management regulations.
This project demonstrates JLR's active role in our communities and assisting municipalities in meeting the demands of their expanding communities. Effective water infrastructure systems are critical to maintaining public health, economic strength, fire protection, and quality of life.
Click here to view drone footage of the project.
About JLR
As a Platinum Club member of Canada's Best Managed Companies, JLR provides high quality, fully integrated engineering, architecture, planning, and project management services to clients in the private and public sectors throughout Canada and internationally. Proudly 100% employee owned and completely Canadian, JLR has seven offices across Ontario supporting a wide variety of projects within seven key markets. Nearly 70 years of business experience places JLR as a leader in design innovation and delivery of successful projects. For information on how JLR can help with your next project, please visit www.jlrichards.ca.
Find @JLRCanada on social media! We are active on LinkedIn, Facebook, Instagram, and YouTube. For up-to-date company announcements, visit our newsroom. JLR is always looking to welcome new talent to our offices across Ontario. Visit www.jlrichards.ca/careers to find out more.
For media inquiries:
marketing@jlrichards.ca