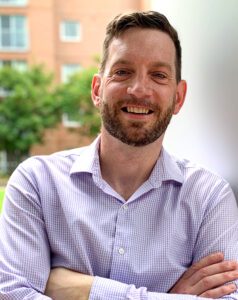 OTTAWA – J.L. Richards & Associates Limited (JLR) is pleased to announce the appointment of Matthew Burtt, P.Eng., Struct.Eng., as Chief Structural Engineer. Burtt brings 17 years of structural engineering experience to the role, all of which have been with JLR.
Burtt is a skilled structural engineer with a broad range of experience in the design of new construction as well as renovations/additions to existing facilities in a wide variety of industrial, commercial, institutional, and municipal projects. He applies his in-depth knowledge of structural analysis, seismic design, and practical constructability through his design approach while providing peer review and technical mentorship across the discipline.
"What I love about structural engineering is getting to the root of the problem and constructability challenges," says Burtt. "I've been hands on since I was a kid and enjoy taking on a multidisciplinary solutions-based approach to structural engineering."
Burtt's leadership and expertise will oversee a structural staff of over 40 engineers and technical staff across seven offices.
"Based on his broad knowledge of structural design and leadership skills, Matthew is recognized for his ability to simplify problems and identify constructable, cost-effective solutions for implementation," says Saverio Parrotta, JLR President and CEO. "One of Matthew's strongest assets is his deep-rooted history with JLR, our diversity of projects, and our multidisciplinary approach. He has experience in all JLR markets, providing him with the knowledge and ability to support staff across all sectors."
Burtt's Designated Structural Engineer (Struct.Eng.) designation in British Columbia (BC) demonstrates the depth of his experience as it requires a knowledge of engineering that goes beyond standard solutions found in manuals of practice. The depth of experience includes seismic requirements; BC building code requirements; current design issues; dedication to enhanced professional development; and engineering materials (concrete, steel, masonry, and wood).
JLR congratulates Matthew in this new role and wishes him continued success.
About JLR
As a Platinum member of Canada's Best Managed Companies, JLR provides high quality, integrated engineering, architecture, planning, and project management services to clients in the private and public sectors. With seven offices across Ontario, JLR's professional services support a wide variety of projects across five key markets, placing them at the cutting edge of both value and service delivery. For information on how JLR can help with your next project, please visit www.jlrichards.ca.
Find @JLRCanada on social media! We are active on LinkedIn, Twitter, Facebook, Instagram, and YouTube. For up-to-date company announcements, visit our newsroom. JLR is always looking to welcome new talent to our offices across Ontario. Visit www.jlrichards.ca/careers to find out more.
For media inquiries:
marketing@jlrichards.ca