JLR Announces the Appointment of Jarrett Carriere to Chief Energy Systems Engineer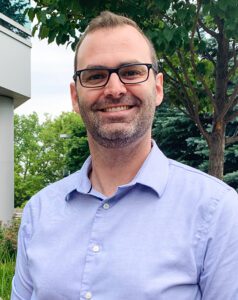 OTTAWA – J.L. Richards & Associates Limited (JLR) is pleased to announce the continued growth of the emerging field of energy systems with the appointment of Jarrett Carriere, P.Eng., M.A.Sc., CEM, to Chief Energy Systems Engineer.
Carriere is an Associate and Energy Systems Engineer with JLR and brings a wealth of experience in energy modeling, energy system design, and renewable energy. He is proficient in the performance analysis and data-driven optimization of systems.
"I've always loved being an engineer because I feel like I can make a positive impact. This has led me to a career in a field that is exploding with opportunities. I want to build on JLR's experience to grow the team and the firm's portfolio," says Carriere. "The Energy Systems group is made up of motivated and talented individuals who have committed their careers to making the world a better place. I'm honoured to be Chief to such a driven team."
Carriere has been an integral part of the growth and success of the Energy Systems group, which became a JLR market in 2018.
"Jarrett has led numerous initiatives to bring solid and sustainable energy solutions into engineering services, architecture, and planning to JLR's diverse set of clients," says Saverio Parrotta, JLR CEO and President. "He brings an in-depth understanding of the services we provide in energy systems and is in a position to leverage the team's drive in this exciting area."
JLR congratulates Jarrett Carriere and looks forward to the expertise and leadership he will bring to the new role.
About JLR
As a Platinum Club member of Canada's Best Managed Companies, JLR provides high quality, fully integrated engineering, architecture, planning, and project management services to clients in the private and public sectors throughout Canada and internationally. Proudly 100% employee owned and completely Canadian, JLR has seven offices across Ontario supporting a wide variety of projects across seven key markets. Nearly 70 years of business experience places JLR  at the leading edge of design innovation and delivery of successful projects. For information on how JLR can help with your next project, please visit www.jlrichards.ca.
Find @JLRCanada on social media! We are active on LinkedIn, Twitter, Facebook, Instagram, and YouTube. For up-to-date company announcements, visit our newsroom. JLR is always looking to welcome new talent to our offices across Ontario. Visit www.jlrichards.ca/careers to find out more.
For media inquiries:
marketing@jlrichards.ca