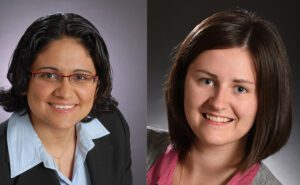 OTTAWA and NORTH BAY – J.L. Richards & Associates Limited (JLR) is pleased to announce the appointment of internal candidates to two leadership positions within the firm.
JLR congratulates Karla Ferrey, P.Eng., on her appointment as Manager, Planning & Development in the Ottawa Civil/Planning department. Ferrey is an Associate and Senior Civil Engineer who has been with JLR for 15 years. Since joining JLR as an EIT, Karla has been an integral part of the growth and success of the group.  Her extensive experience, capable leadership, and technical execution paves the way for a new chapter in the department as manager.
"I was born in Nicaragua and my family immigrated to Canada when I was a young girl. Being able to dream big and become a professional engineer in Canada has been such a blessing," says Ferrey. "I'm so grateful for the 15 years of mentorship I have received at JLR, especially from the past leadership. I'm excited for this new adventure and the opportunity to continue to lead such a devoted group of professionals working for some of the most amazing clients. I'm looking forward to being part of the continued success of the Ottawa Planning & Development group."
JLR is also proud to announce the appointment of Rikki-Lynn Dubien, P.Eng., as Manager, North Bay Office. Dubien is also a JLR veteran and recently moved back to her hometown of North Bay. She has a unique cross-sectional view of JLR, having worked in both Ottawa and North Bay offices with multiple disciplines.
"I like to see people succeed and I'm excited to support the North Bay office staff to achieve their professional goals in my new role," says Dubien. "As Manager, I'm looking forward to implementing and making use of available technology to streamline workload and encourage collaboration."
JLR's President and CEO, Saverio Parrotta, is excited with the internal promotion of these two candidates.
"These two leaders represent the voice of a generation we're eager to hear from at our leadership table," says Parrotta. "The appointment of internal candidates to leadership roles is a testament to JLR's investment in its staff and of encouraging advancement and mentorship at all levels. Both bring an in-depth understanding of the markets and disciplines at JLR and are able to inspire staff to succeed."
JLR congratulates Karla Ferrey and Rikki-Lynn Dubien and looks forward to the expertise and leadership they will bring to the new roles.
 About JLR
As a Platinum Club member of Canada's Best Managed Companies, JLR provides high quality, fully integrated engineering, architecture, planning, and project management services to clients in the private and public sectors throughout Canada and internationally. Proudly 100% employee owned and completely Canadian, JLR has seven offices across Ontario supporting a wide variety of projects across seven key markets. Nearly 70 years of business experience places JLR  at the leading edge of design innovation and delivery of successful projects. For information on how JLR can help with your next project, please visit www.jlrichards.ca.
Find @JLRCanada on social media! We are active on LinkedIn, Twitter, Facebook, Instagram, and YouTube. For up-to-date company announcements, visit our newsroom. JLR is always looking to welcome new talent to our offices across Ontario. Visit www.jlrichards.ca/careers to find out more.
For media inquiries:
marketing@jlrichards.ca