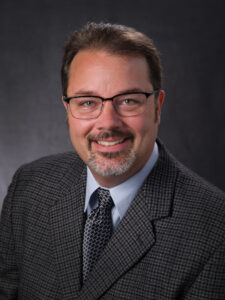 SUDBURY – There is a new manager in the Sudbury office of J.L. Richards & Associates Limited (JLR). Senior Civil Engineer, Darren Radey, P.Eng., has been appointed to the role of Manager, and will specifically oversee the Civil, Planning, and Environmental group in Sudbury.
Radey first joined JLR in 2018, and has quickly adapted to the firm's uniquely collaborative business model.
"I have enjoyed every day of working at JLR," he says. "The people are wonderful, and the projects are fun and challenging."
Radey brings over 20 years of project management and project engineering experience to the role, and is accustomed to working as part of a multidisciplinary team supporting diverse public and private sector clients. He also has extensive design experience, which has been focused on wastewater treatment plant upgrades, sewage pumping stations, water booster stations, reservoirs, and various municipal and civil works. Radey explains that he looks forward to sharing his expertise in these areas with the Sudbury team.
"I love to teach young people, and to be a mentor to those who are eager to learn," he says. "I look forward to supporting staff in their professional success, and to help them develop their expertise and achieve their goals."
With this transition, Radey will become the third member of what is already a strong management team in Sudbury. He joins Matt Weaver, P.Eng., PMP, FEC, who manages the Mechanical, Electrical, Corporate Services and Project Delivery staff in Sudbury, and Raimondo Cuda, OAA, MRAIC, who leads the office's Architectural and Structural staff.
"I am excited to be able to use what I have learned over the past 20 years, and to learn a few new things myself," Radey says. "I see this as an opportunity to become a better engineer and manager."
JLR looks forward to the diverse experience and palpable enthusiasm that Radey brings to the team, while Radey expresses his delight to align with a company that shares his values and growth mindset.
"This company cares about its most valuable resource, its people, and I truly believe this is key," he says. "I am glad to be a part of a company where we share the same values, and I am thrilled to be a part of a company that is growing by leaps and bounds."
About JLR
A Gold Standard Canadian Best Managed Company, JLR provides high-quality integrated engineering, architecture, planning, and project management services to enterprises in the private and public sectors. With seven offices across Ontario, JLR's professional services support a wide variety of land development, infrastructure, and building projects, placing them at the cutting edge of both value and service delivery. For information on how JLR can help with your next project, please visit www.jlrichards.ca.
Find us on social media. We are active on LinkedIn, Twitter, Facebook, and Instagram. For up-to-date company announcements, visit our newsroom. JLR is always looking to welcome new talent to our offices across Ontario. Visit www.jlrichards.ca/careers to find out more.
For media inquiries:
marketing@jlrichards.ca