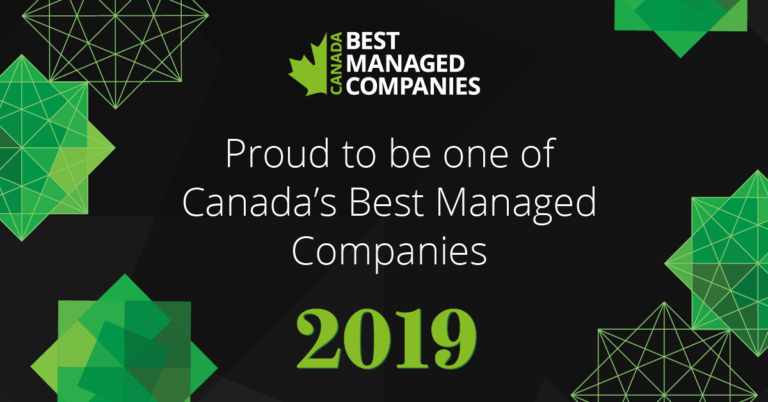 OTTAWA – Following an announcement earlier today from Deloitte, J.L. Richards & Associates Limited (JLR) is in the midst of company-wide celebration. For the sixth consecutive year, the firm is honoured to be named one of Canada's Best Managed Companies.
The Best Managed program is a rigorous awards competition that recognizes excellence in business strategy, innovation, performance, employee engagement, and sustained growth. The program is particularly focused on evaluating the practices of Canadian-owned companies with revenues over $15M.
JLR was first awarded Best Managed status in 2013. By successfully requalifying for this award annually, the firm was then named a Gold Standard Best Managed company in 2017. JLR has now retained this Gold Standard designation for two years.
"It is an honour for JLR to be named a Gold Standard Canadian Best Managed Company again in 2019," says JLR President and Chief Executive Officer Guy Cormier. "We hope that this achievement shows our clients, partners, and employees that we value how they see us, and we use their perspectives to continue improving our company."
Cormier explains that being part of the Best Managed program has provided JLR with a unique opportunity to learn from fellow Canadian business leaders, and to grow as a result.
"We have learned that being good engineers, architects, planners, and project managers is not enough to be successful in business," says Cormier. "This program has given us the opportunity to connect with people and companies we can learn from, and who can help and support us as we innovate and develop our business sustainably."
Established in 1955, JLR is a 100% employee-owned and completely Canadian company that is uniquely structured to provide its clients with unparalleled multidisciplinary solutions and support. The firm employs over 300 individuals, including civil, electrical, energy systems, mechanical, and structural engineers, as well as architects, planners, project managers, and diverse support staff. This team is distributed across offices in Ottawa, Kingston, Sudbury, Timmins, North Bay, Hawkesbury, and Guelph.
In the past year, JLR has been focused on expanding its service areas, recognizing the accomplishments of its team, and developing its internal structure to support plans for future growth. The firm has added a team of energy systems engineers, the Innovative Energy Group, to provide clients with new tools to understand, evaluate, and improve their energy usage. The firm has also appointed a new Executive Director, Chief Architect, Chief Structural Engineer, and five new Associates, in addition to welcoming a new Municipal Market Chief and new Chief of Corporate Services. Finally, JLR has transitioned three existing staff members into new management roles in Sudbury and Ottawa.
Over the next year, JLR will be preparing to compete for the highest honour in the Best Managed program, a place in its Platinum Club. This designation is reserved for Best Managed winners who successfully retain their status in the program for seven consecutive years or more.
The Best Managed program is sponsored by Deloitte, Canadian Business, CIBC, Smith School of Business, and TMX Group.
About JLR
A Gold Standard Canadian Best Managed Company, JLR provides high-quality integrated engineering, architecture, planning, and project management services to enterprises in the private and public sectors. With seven offices across Ontario, JLR's professional services support a wide variety of land development, infrastructure, and building projects, placing them at the cutting edge of both value and service delivery. For information on how JLR can help with your next project, please visit www.jlrichards.ca.
Find us on social media. We are active on LinkedIn, Twitter, Facebook, and Instagram. For up-to-date company announcements, visit our newsroom. JLR is always looking to welcome new talent to our offices across Ontario. Visit www.jlrichards.ca/careers to find out more.
For media inquiries:
marketing@jlrichards.ca