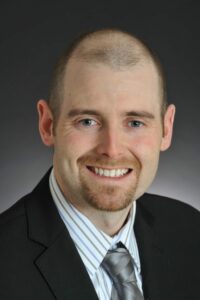 OTTAWA – J.L. Richards & Associates Limited (JLR) is pleased to announce that Nicolas Rivet, P.Eng., ing., LEED AP has been elected an Executive Director of the firm.
Rivet joined JLR in 2004 as an Electrical Engineering Intern. He went on to become an Associate of the firm in 2013, Manager of the Ottawa Electrical Department in 2015, and Manager of the Ottawa Energy Systems Department in 2019. A graduate of the University of Ottawa, Rivet is noted for his skill in electrical design team leadership and integrated multidisciplinary projects. He has specialized expertise in project management within the institutional, industrial, and commercial sectors, as well as expertise in security and life safety system design. His recent project portfolio includes work across several Canadian provinces as well as dozens of international projects across the globe.
Rivet is a member of Professional Engineers Ontario, the Association of Professional Engineers and Geoscientists of Alberta, Ordre des ingénieurs du Québec, and Professional Engineers and Geoscientists Newfoundland and Labrador. Rivet is also a Leadership in Energy and Environmental Design Accredited Professional through the Canada Green Building Council.
In this new role, Rivet will join JLR's 11-person Board of Directors and take on additional duties related to corporate governance and executive leadership of the firm. He explains that he is both honoured and excited to take on this role and the new challenges it will present.
"It's an honour to be voted by the shareholders to represent them in this role," he says. "I hope I can contribute new ideas to new challenges."
Rivet explains that the other members of JLR's Board of Directors have been quick to congratulate him and offer their support as he adjusts to his new role.
"The Board quickly initiated an onboarding process to facilitate the transition into my new role," Rivet say. "A number of Board members have also reached out to share their insight on how to complete a smooth and seamless transition."
Guy Cormier, P.Eng., JLR President adds that he is pleased to welcome Rivet to the Board, and to see JLR's shareholders elect an employee with such a strong history with the firm.
"Nicolas first came to JLR through co-op when he was still a student. Since then he has built an impressive career here," explains Cormier. "It is a pleasure see that our shareholders continue to support his growth, and the growth of JLR's senior leadership team."
About JLR
As a Platinum Club Canadian Best Managed Company, JLR provides high-quality integrated engineering, architecture, planning, and project management services to enterprises in the private and public sectors. With seven offices across Ontario, JLR's professional services support a wide variety of projects across five key markets, placing them at the cutting edge of both value and service delivery. For information on how JLR can help with your next project, please visit www.jlrichards.ca.
Find @JLRCanada on social media! We are active on LinkedIn, Twitter, Facebook, Instagram, and YouTube. For up-to-date company announcements, visit our newsroom. JLR is always looking to welcome new talent to our offices across Ontario. Visit www.jlrichards.ca/careers to find out more.
For media inquiries:
marketing@jlrichards.ca