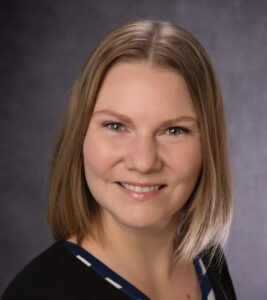 SUDBURY– J.L. Richards & Associates Limited (JLR) is pleased to announce that Stephanie Campbell, OAA, SAA, MRAIC, has been appointed Manager, Sudbury Architectural & Structural department.
Campbell moved to Sudbury and joined JLR as an Architect in 2020. She has worked in the field since 2013, primarily in educational institutions, residential spaces, custom homes, small renovations, large additions, and care facilities. Her wide range of skills encompasses condition assessment reports, building code analysis, feasibility studies, and coordination of construction drawings and specifications.
Campbell is a member of the Ontario Association of Architects (OAA), the Saskatchewan Association of Architects (SAA), and the Royal Institute of Architects in Canada (MRAIC).
"When I joined JLR as an Architect in Sudbury, I found it to be a tight-knit group of professionals who take on every project with so much enthusiasm and attention to detail," says Campbell. "The multidisciplinary nature of JLR means that there is a strong sense of integration and coordination in our teams. The atmosphere of connectivity makes it easy to build reliable working relationships."
In her new role, Campbell will be adding her unique approach and perspective to the strong management team in Sudbury.
"I am very excited for this new role! The Sudbury office exemplifies JLR's integrated architectural and engineering expertise, and we are proud of our contributions to the built environment in Northern Ontario," says Campbell. "We have a diverse staff with a wide range of skillsets. I look forward to drawing on the personal skills of the staff, mentoring and managing them on a day-to-day basis, and helping them grow in their careers."
Raimondo Cuda, OAA, AIBC, MRAIC, who previously held the role and has since taken the helm of JLR's architectural practice as Chief Architect, is enthused about Campbell's leadership of the Sudbury Architectural and Structural Department.
"Stephanie is a natural leader. She is incredibly detail oriented and approachable. She brings a different perspective to the team in Sudbury. We are working closely with her to make sure she is supported in this transition," explains Cuda. "I had a great experience during my time as Manager. It was a great opportunity to mentor and manage the technical development and careers of the staff. In my new role as Chief Architect, I'm excited to further explore our architectural design culture, technical project delivery, and to mentor junior staff."
JLR's President, Saverio Parrotta, who used to be a former manager in Sudbury, is confident that Campbell will be leading a robust and supportive group of professionals.
"We're delighted to have found an internal candidate for the role who knows the culture, structure, and spirit of JLR," says Parrotta. "Stephanie has a great rapport with her peers and a lot of good experience. She is well equipped to work with the staff, grow them professionally, and grow JLR."
About JLR
As a Platinum Canadian Best Managed Company, JLR provides high quality, integrated engineering, architecture, planning, and project management services to enterprises in the private and public sectors. With seven offices across Ontario, JLR's professional services support a wide variety of projects across five key markets, placing them at the cutting edge of both value and service delivery. For information on how JLR can help with your next project, please visit www.jlrichards.ca.
Find @JLRCanada on social media! We are active on LinkedIn, Twitter, Facebook, Instagram, and YouTube. For up-to-date company announcements, visit our newsroom. JLR is always looking to welcome new talent to our offices across Ontario. Visit www.jlrichards.ca/careers to find out more.
For media inquiries:
marketing@jlrichards.ca