OTTAWA – J.L. Richards & Associates Limited (JLR) is pleased to announce the appointment of internal candidates to three leadership positions within the firm.
JLR congratulates Jim Evenson, P.Eng., ing., LEED AP, on his appointment as Chief Mechanical Engineer. Evenson is an Associate who has worked at JLR for over 20 years. His extensive experience, capable leadership, and technical execution pave the way for a new chapter as he takes the helm of JLR's mechanical discipline.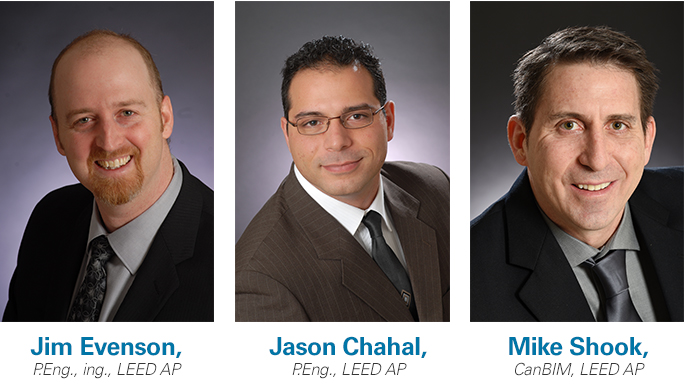 "I am very excited to assume the role of Chief Mechanical Engineer with JLR. I look forward to building on all our great successes in the mechanical discipline as well as JLR as a whole," says Evenson. "I am proud to have been part of such a capable team for the past 20+ years and I am keen to contribute to the development of current staff and the next generation as JLR continues to grow and rise to new challenges."
Jason Chahal, P.Eng., LEED AP, will step into Evenson's former role as Manager, Ottawa Mechanical Department. Evenson heartily welcomes Chahal to the mechanical leadership team.
"I would like to congratulate and welcome Jason to his new position. As a Senior Mechanical Engineer and Associate with over 15 years of service to JLR, Jason has acquired the leadership skills required to succeed in his new role," says Evenson. "I look forward to working with Jason to ensure the continued success of the Ottawa mechanical group."
Chahal's specialized experience, substantial contributions, and systematic approach to leadership uniquely position him to understand and oversee the day-to-day tasks of the Ottawa mechanical group.
"I am very excited about the opportunity and the future of JLR. The Ottawa mechanical group is a strong team with great prospects moving into the future," says Chahal. "I am looking forward to the new role and grateful for the work put in by the past leadership and the support of my colleagues."
JLR is also delighted to announce the appointment of Mike Shook, CanBIM, LEED AP, as Manager, Design Technology. Shook is currently a Senior Structural Designer and Associate at JLR with a wide range of experience in delivering complex and multidisciplinary projects. He has been pivotal in developing the firm's design and production technology. JLR is eager to support Shook in this newly defined function in the project delivery discipline.
"I am looking forward to the opportunity to refine our well established workflows and procedures that have fostered great collaboration and teamwork here at JLR. There are exciting times ahead with rapid advancements in digital tools and technology and I look forward to working with our project delivery team to position us as leaders delivering projects using building information modeling for project delivery," says Shook. "This new role will provide leadership to maximize production efficiencies and consistency in the delivery of projects across all JLR's markets."
JLR's President and CEO, Saverio Parrotta, is excited with the internal promotion of these three candidates.
"These internal candidates know the culture, structure, and essence of JLR," says Parrotta. "They bring an in-depth understanding of the existing dynamics and relationships between departments. The appointment of internal candidates to leadership roles is a result of investment in our staff and a culture of encouraging engagement at all levels."
JLR congratulates all three employees in their new roles and wishes them continued success.
About JLR
As a Platinum Canadian Best Managed Company, JLR provides high quality, integrated engineering, architecture, planning, and project management services to enterprises in the private and public sectors. With seven offices across Ontario, JLR's professional services support a wide variety of projects across five key markets, placing them at the cutting edge of both value and service delivery. For information on how JLR can help with your next project, please visit www.jlrichards.ca.
Find @JLRCanada on social media! We are active on LinkedIn, Twitter, Facebook, Instagram, and YouTube. For up-to-date company announcements, visit our newsroom. JLR is always looking to welcome new talent to our offices across Ontario. Visit www.jlrichards.ca/careers to find out more.
For media inquiries:
marketing@jlrichards.ca