OTTAWA – J.L. Richards & Associates Limited (JLR) has announced exciting changes to its executive leadership team, including the election of a new Chief Executive Officer and new Vice President.
Each year, the internal shareholders of the 100% employee-owned firm elect an 11-person Board of Directors. The first order of business for the Board is to elect the firm's Executive Officers for the year.
JLR is pleased to announce that Guy Cormier, P.Eng. has been re-elected as President of the firm for the ninth consecutive year. Formerly President and CEO, Cormier's role has evolved this year to allow him to begin transitioning away from overseeing day-to-day business and from engagement in non-Board related meetings. As in past years, Cormier will remain closely involved in JLR's professional practice by supporting the management of JLR's business activities and acting as a key resource for the firm's senior leadership team. He will remain responsible for providing oversight to the Board, and will be focused on corporate policy and both short and long-term corporate direction.
"I am honoured to continue on as President of JLR," says Cormier.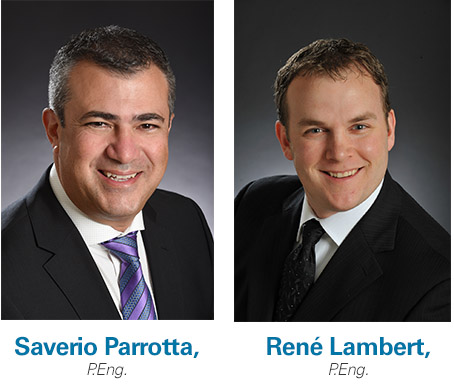 JLR is also pleased to announce that the firm's former Vice President, Saverio Parrotta, P.Eng. has been elected JLR's Chief Executive Officer. An Executive Director since 2014 and Vice President since 2017, Parrotta will be tasked with overseeing the day-to-day operation of the business and executing Board directives in his new role as CEO.
"I am thrilled with the opportunity to lead the company as CEO and look forward to the changes this new role will bring," says Parrotta.
Finally, JLR is excited to announce that René Lambert, P.Eng. has been elected Vice President of the firm. A member of the Board since 2015, Lambert will now be responsible for providing key support in the day-to-day operation of the business. He will also take on additional responsibilities related to JLR's Corporate Services and the firm's subsidiary LCI Engineering Inc.
"When I first joined JLR as an aspiring engineer fresh out of university, I was excited to contribute to such a dynamic and reputable company," says Lambert. "Now having the opportunity to take on the role of Vice President and help lead the firm is a great honour."
"Our shareholders and our Board have elected a strong Executive leadership team," adds Cormier. "Saverio, René, and I all look forward to leading the firm in partnership with the rest of the Board of Directors and JLR team."
About JLR
As a Platinum Club Canadian Best Managed Company, JLR provides high-quality integrated engineering, architecture, planning, and project management services to enterprises in the private and public sectors. With seven offices across Ontario, JLR's professional services support a wide variety of projects across five key markets, placing them at the cutting edge of both value and service delivery. For information on how JLR can help with your next project, please visit www.jlrichards.ca.
Find @JLRCanada on social media! We are active on LinkedIn, Twitter, Facebook, Instagram, and YouTube. For up-to-date company announcements, visit our newsroom. JLR is always looking to welcome new talent to our offices across Ontario. Visit www.jlrichards.ca/careers to find out more.
For media inquiries:
marketing@jlrichards.ca