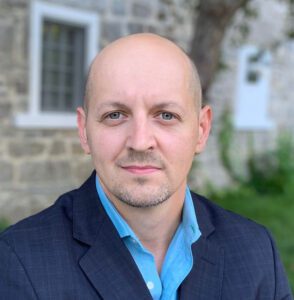 JLR Announces the Appointment of Bogdan Burzawa to Buildings Market Chief
Appointment upholds JLR's continued commitment to its people as the foundation of its success
OTTAWA – J.L. Richards & Associates Limited (JLR) is pleased to announce the appointment of Bogdan Burzawa, P.Eng., LEED AP, to Buildings Market Chief. Bogdan is an Associate and Senior Mechanical Engineer with the firm. He brings a wealth of experience and passion to the strategic pursuit of business opportunities and creating value for JLR clients. Bogdan will work closely with other leaders within the organization to deploy JLR's Buildings Market business plan and be responsible for the market's overall strategic direction and growth.
"The role of Buildings Market Chief is one of leadership and support," says Bogdan. "I view the market as a complex system. As a facilitator, I hope to establish the boundaries of our operation, cultivate the key success drivers, and amplify positive results."
Bogdan brings a unique perspective to the business through successful completion of projects in over two dozen countries. As an MBA candidate, he appreciates the importance of good leadership and creating an inclusive, diverse, and thriving work environment.
"Bogdan is a perfect fit in this role as he embodies the JLR spirit of entrepreneurship and collaboration while bringing sound business, project management, and technical skills through direct involvement in multidisciplinary design projects," says Saverio Parrotta, JLR CEO and President. "He has successfully delivered many complex projects across Canada and internationally using various project delivery methods."
Bogdan is excited to take on this new role and find creative new ways to continuously improve JLR's business, create new partnerships, and provide additional value to clients. JLR congratulates Bogdan and looks forward to the expertise and leadership he will bring to the new role.
About JLR
As a Platinum Club member of Canada's Best Managed Companies, JLR provides high quality, fully integrated engineering, architecture, planning, and project management services to clients in the private and public sectors throughout Canada and internationally. Proudly 100% employee owned and completely Canadian, JLR has seven offices across Ontario supporting a wide variety of projects across seven key markets. Nearly 70 years of business experience places JLR  at the leading edge of design innovation and delivery of successful projects. For information on how JLR can help with your next project, please visit www.jlrichards.ca.
Find @JLRCanada on social media! We are active on LinkedIn, Twitter, Facebook, Instagram, and YouTube. For up-to-date company announcements, visit our newsroom. JLR is always looking to welcome new talent to our offices across Ontario. Visit www.jlrichards.ca/careers to find out more.
For media inquiries:
marketing@jlrichards.ca