JLR Appoints Dan Lefebvre to Civil Discipline Chief
Dan's comprehensive technical expertise will grow and support JLR's Civil Discipline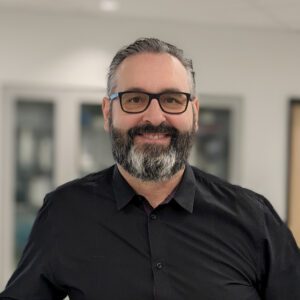 OTTAWA – J.L. Richards & Associates Limited (JLR) is pleased to announce the appointment of Dan Lefebvre, C.E.T., to Civil Discipline Chief. Dan brings 29 years of civil design experience to the role—21 of which have been with JLR.  He will lead JLR's growing team of more than 70 civil engineering professionals and technologists across seven offices, managing the overall direction of the discipline.
"I decided to pursue engineering because I like design, seeing things built, and helping to improve the communities we are a part of and live in," says Dan. "I have been working in this industry since 1994 and I am very passionate about what I do."
Throughout his impressive 29-year career, Dan has established himself as a highly regarded and sought after design practitioner and a diligent and reliable mentor. Dan has expertise in municipal water, sewer, and road rehabilitation infrastructure projects and a strong background in land development. As a fully bilingual project leader, Dan is able to effectively communicate, collaborate, and engage with diverse stakeholders. He possesses a deep understanding of the essential elements necessary to guide the firm's civil practice.
"Dan is very well respected both internally and in the wider engineering world as a preeminent leader in his field," says Saverio Parrotta, P.Eng., JLR CEO and President. "His long tenure with the firm and comprehensive knowledge of the diverse elements of civil engineering will serve him well in this new leadership role."
JLR has been providing civil engineering expertise to public and private sector clients for nearly 70 years. Dan will continue to leverage a team of dedicated and talented engineers and technical staff to manage and expand the technical and project delivery needs of the firm.
JLR congratulates Dan and looks forward to the expertise and leadership he will bring to his new role.
-30-
About JLR
As a Platinum Club member of Canada's Best Managed Companies, JLR provides high quality, fully integrated engineering, architecture, planning, and project management services to clients in the private and public sectors throughout Canada and internationally. Proudly 100% employee owned and completely Canadian, JLR has seven offices across Ontario supporting a wide variety of projects within seven key markets. Nearly 70 years of business experience places JLR as a leader in design innovation and delivery of successful projects. For information on how JLR can help with your next project, please visit www.jlrichards.ca.
Find @JLRCanada on social media! We are active on LinkedIn, Facebook, Instagram, and YouTube. For up-to-date company announcements, visit our newsroom. JLR is always looking to welcome new talent to our offices across Ontario. Visit www.jlrichards.ca/careers to find out more.
For media inquiries:
marketing@jlrichards.ca