JLR Appoints Jason Ferrigan to Chief Planner
Jason's comprehensive technical expertise will grow and support JLR's Planning Discipline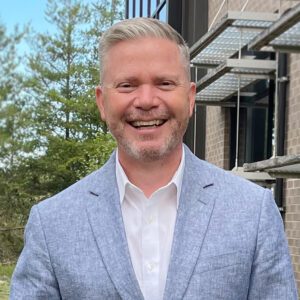 SUDBURY – J.L. Richards & Associates Limited (JLR) is pleased to announce the appointment of Jason Ferrigan, RPP, MCIP, MSc.Pl, to Chief Planner. He will lead JLR's growing team of professional planners who serve public and private clients on a wide range of projects providing viable and insightful options for innovative and adaptable planning.
With 25 years of experience, Jason is a creative and inspiring leader that empowers and drives innovation and action while creating more sustainable communities. Jason's skilled approach and commitment provides clients with options that are viable and insightful."I'm fortunate to have worked in different sectors and gained extensive experience in Ontario and elsewhere. This experience has taught me a lot about planning and what it can do for residents, businesses, and communities," says Jason. "It also taught me how to listen and understand needs, develop tailored solutions that work, and lead people and teams. I'm looking forward to collaborating with my colleagues, clients, and stakeholders to create great outcomes on every project we work on."
Jason's efforts have been recognized for excellence and innovation at the provincial and national levels. His experience spans the full spectrum of planning—from idea to implementation—including visions, master plans, design guidelines, planning policies, site studies, development approvals, competitions, and construction. His challenging and complex assignments have been across Ontario, Quebec, Alberta, the United States, and the Caribbean."Jason is very well respected both internally and in the wider planning world as a preeminent leader in his field," says Saverio Parrotta, JLR CEO and President. "His comprehensive technical expertise and his can-do attitude will service the firm and the Planning group well as it continues to grow and support the communities and markets it services."
Jason will continue to build on the high-performing Planning Discipline, increase JLR's planning capacity in Ontario, and commit to creating positive change in communities. JLR congratulates Jason and looks forward to the expertise and leadership he will bring to his new role.
About JLR
As a Platinum Club member of Canada's Best Managed Companies, JLR provides high quality, fully integrated engineering, architecture, planning, and project management services to clients in the private and public sectors throughout Canada and internationally. Proudly 100% employee owned and completely Canadian, JLR has seven offices across Ontario supporting a wide variety of projects within seven key markets. Nearly 70 years of business experience places JLR as a leader in design innovation and delivery of successful projects. For information on how JLR can help with your next project, please visit www.jlrichards.ca.
Find @JLRCanada on social media! We are active on LinkedIn, Facebook, Instagram, and YouTube. For up-to-date company announcements, visit our newsroom. JLR is always looking to welcome new talent to our offices across Ontario. Visit www.jlrichards.ca/careers to find out more.
For media inquiries:
marketing@jlrichards.ca