JLR Elects Two New Members to the Board of Directors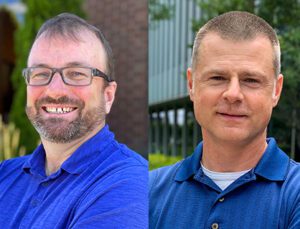 OTTAWA – J.L. Richards & Associates Limited (JLR) is pleased to announce that Jim Steele, P.Eng., and Neil Farr, P.Eng., have been elected to JLR's Board of Directors. Jim and Neil are part of JLR's 11-person board and will take on duties related to corporate governance and executive leadership of the engineering, architecture, and planning firm.
Jim joined JLR in 2001 as an Engineer in Training and is currently a Senior Environmental Engineer and Manager, Kingston Office. A graduate of Carleton University, Jim is experienced in municipal infrastructure design and project management. He has been responsible for design and contract administration of large, complex water and wastewater treatment  projects. His expertise also includes alternative delivery construction methods such as design-build and acting as a technical advisor to clients.
Neil is a Senior Mechanical Engineer and Industrial Market Chief with 23 years of experience. Neil is a graduate of Carleton University and began his consulting career with LCI Engineering Inc., then joining JLR when LCI was acquired in 2020. He has worked extensively in the biorefinery and industrial production facility sectors with expertise in the design, fabrication, and construction of boilers, pressure vessels, steam, piping, and related balance of plant systems.
"Both Jim and Neil have a passion for engineering, and truly love the work they do.  They are deeply committed to the sustainable growth and continued success of the firm," says Saverio Parrotta, JLR CEO and President. "These individuals embrace JLR's entrepreneurial spirit and innovative thinking to solve problems and improve the lives of the people in communities we serve."
The JLR Board of Directors is elected by the shareholders of the firm. An important distinction that sets JLR apart is our organizational structure: we are a completely Canadian company and are entirely owned and operated by our employees. This defining element of JLR means that all employees are invested in the success and operational practices of the company. Our broad-based employee ownership structure helps explain the very long average tenure of our employees and is also a significant contributor in attracting new talent. The entrepreneurial spirit is a fundamental aspect of JLR's culture and ongoing success.
About JLR
As a Platinum Club member of Canada's Best Managed Companies, JLR provides high quality, fully integrated engineering, architecture, planning, and project management services to clients in the private and public sectors throughout Canada and internationally. Proudly 100% employee owned and completely Canadian, JLR has seven offices across Ontario supporting a wide variety of projects within seven key markets. Nearly 70 years of business experience places JLR as a leader in design innovation and delivery of successful projects. For information on how JLR can help with your next project, please visit www.jlrichards.ca.
Find @JLRCanada on social media! We are active on LinkedIn, Facebook, Instagram, and YouTube. For up-to-date company announcements, visit our newsroom. JLR is always looking to welcome new talent to our offices across Ontario. Visit www.jlrichards.ca/careers to find out more.
For media inquiries:
marketing@jlrichards.ca