JLR Named One of Canada's Best Managed Companies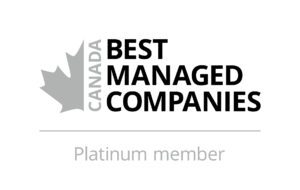 OTTAWA – J.L. Richards & Associates Limited (JLR) is thrilled to announce that it has been recognized for its industry-leading performance, its global business practices, and its sustained growth by achieving Platinum Club status with Canada's Best Managed Companies program. This year marks the 10th consecutive year as a winner of the prestigious program.
Celebrating its 30th anniversary, Canada's Best Managed Companies program awards excellence in private Canadian-owned companies. To attain the designation, companies are evaluated on their leadership in the areas of strategy, culture, commitment, capabilities, innovation, governance, and financial performance.
"JLR has successfully responded to challenges over the years by reimaging our business model and seizing new opportunities to drive sustainable growth and profitability," says Saverio Parrotta, JLR CEO & President. "We are proud to be recognized by the Best Managed program year after year for our strategic expertise, culture of innovation, and entrepreneurial spirit."
Canada's Best Managed Companies is one of the country's leading business awards programs recognizing innovative and world‑class businesses. Every year, hundreds of entrepreneurial companies compete for this designation in a rigorous and independent evaluation process.
"This year's Best Managed winners displayed courage, resourcefulness, and creativity as they explored new avenues for advancement," says Derrick Dempster, Partner, Deloitte Private and Co-Leader for Canada's Best Managed Companies program. "We're extremely proud to recognize the impressive achievements of companies such as JLR in this rapidly evolving business world. Their successes demonstrate the importance of strong leadership and forethought in driving longterm growth."
Applicants are evaluated by an independent panel of judges with representation from program sponsors and special guests. This year's winners have demonstrated an increased focus on environmental, social, and governance themes as means to drive impactful and sustainable business outcomes.
About Canada's Best Managed Companies
Canada's Best Managed Companies program continues to be the mark of excellence for privately owned Canadian companies. Every year since the launch of the program in 1993, hundreds of entrepreneurial companies have competed for this designation in a rigorous and independent process that evaluates their management skills and practices. The awards are granted on four levels: 1) Canada's Best Managed Companies new winner (one of the new winners selected each year); 2) Canada's Best Managed Companies winner (award recipients that have reapplied and successfully retained their Best Managed designation for two additional years, subject to annual operational and financial review); 3) Gold Standard winner (after three consecutive years of maintaining their Best Managed status, these winners have demonstrated their commitment to the program and successfully retained their award for four-to-six consecutive years); 4) Platinum Club member (winners that have maintained their Best Managed status for seven years or more). Program sponsors are Deloitte Private, CIBC, The Globe and Mail, Salesforce and TMX Group. For more information, visit www.bestmanagedcompanies.ca.
About JLR
As a Platinum Club member of Canada's Best Managed Companies, JLR provides high quality, fully integrated engineering, architecture, planning, and project management services to clients in the private and public sectors throughout Canada and internationally. Proudly 100% employee owned and completely Canadian, JLR has seven offices across Ontario supporting a wide variety of projects within seven key markets. Nearly 70 years of business experience places JLR as a leader in design innovation and delivery of successful projects. For information on how JLR can help with your next project, please visit www.jlrichards.ca.
Find @JLRCanada on social media! We are active on LinkedIn, Facebook, Instagram, and YouTube. For up-to-date company announcements, visit our newsroom. JLR is always looking to welcome new talent to our offices across Ontario. Visit www.jlrichards.ca/careers to find out more.
For media inquiries:
marketing@jlrichards.ca