Client: Pomerleau Inc.
Location: Corner Brook, Newfoundland
Size: 30 MLD capacity
The City of Corner Brook (City) has a population of approximately 20,000 and is a vital community that provides an important link to the west coast of Newfoundland. General contractor, Pomerleau, partnered with JLR and were short listed to  compete against two other design/build teams to design and construct a new greenfield 30 MLD water treatment plant. As part of this process, JLR studied the detailed Statement of Requirements issued by the City and their project managers, reviewed available raw water quality data, carefully evaluated existing site constraints, reviewed treatment process options, and competitively selected a treatment supplier to be on the team. JLR then developed additional detailed drawings and a Preliminary Design Report that allowed the contractors to provide accurate capital and operational costing. Through collaboration and innovative design, the Pomerleau/JLR team was ultimately selected for a project that was approximately $20M lower than a previously tendered/cancelled design/bid/build project.
Upon award of the project, JLR continued to work with the contractors, the City, and their agents in the development of additional design details including 100% completion drawings and technical specifications. Pilot testing of the treatment process was also undertaken at the request of the Owner to further optimize the design.
The treatment process is a three-train system that includes dissolved air floatation (DAF), rapid sand/anthracite filtration and ultra-violet (UV) disinfection. Chemical storage/feed systems include coagulant, polymer, soda ash, corrosion inhibitor and chlorine gas for secondary disinfection. Water is stored on site in two above grade glass fused to steel circular/domed tanks and the overall system relies on gravity to convey raw water through the treatment system and treated water to the City's water distribution network – one of the several innovative design approaches that allowed for reduced capital costs. The plant also includes a loading dock for chemicals, offices for staff, a full laboratory for water testing, a service garage, and other facilities to support operations and maintenance staff and the treatment processes. The entire plant facilities were designed to fit within an existing excavated footprint established for the previously cancelled tendered project.
Lifecycle costs were an evaluated component of the design-build submission and scoring so energy and chemical consumption could not simply be ignored for potential lower capital cost options. The result is a plant that has been touted as delivering some of the best water quality in eastern Canada at a significantly reduced cost than originally planned.
Other Alternative Delivery Projects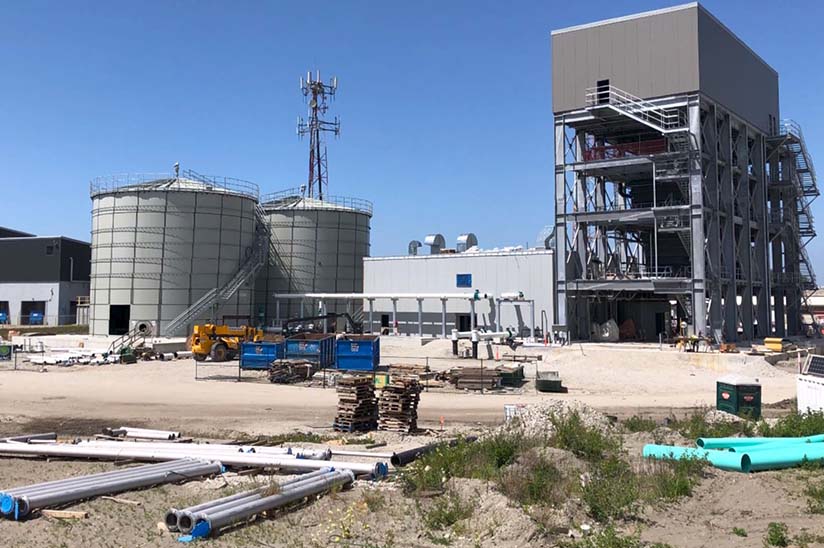 Iona WWTP Biosolids Dewatering